Parameters not imported into Workbench 18.2 from Solidworks/Inventor
Hello,
I am trying to iterate over some dimensions of my CAD model and simulate the effect of some forces on the model thus created in Workbench 18.2.

I was using Solidworks 2016 to generate the CAD of my system (I tried using Inventor 2016 also), and followed the instructions at several sources to be able to use dimensions in Solidworks as parameters in my ANSYS Static Structural block (a list of sources I used has been provided below). But here is a summary of the steps I have followed:
Step 1:
For example, in the image below, I have considered a simple example of a disc whose diameter I want to iterate over. Therefore, in Solidworks, I name that dimension "DS_A", so that the Geometry block in ANSYS can recognize the same as a parameter.
Step 2: Next, in Workbench 18.2 I created the following simple Schematic, and specified the following properties for the Geometry properties (including the Parameter options shown in the red box).


Step 3: 
Now as per the tutorials and forum instructions I followed, the Geometric Parameters should have been imported successfully into Workbench. However, when I load the Model in the Static Structural block, and click on the Part, I am unable to see "CAD Parameters" in the list of Details loaded for my part. I only see the "Graphics Properties", "Definition", "Material", "Bounding Box", "Properties", and "Statistics" options there, as can be seen below:


I had followed the following tutorials exactly to get the above results, yet, it seems like I am getting a different output from them:
1.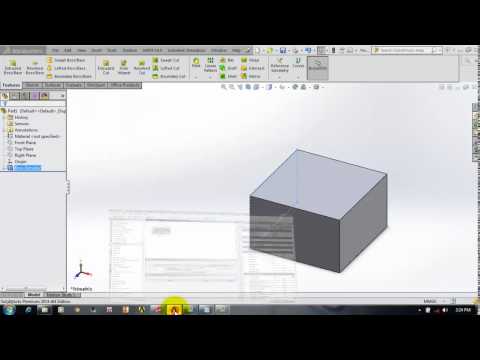 2. https://forum.solidworks.com/thread/64546

3. https://forum.solidworks.com/thread/113843

and many others that all seem to suggest the same method of re-naming variables and dimensions in Solidworks/Inventor with the Parameter Key "DS" (specified by ANSYS) included somewhere in the names of the variables/dimensions.
The only difference I saw in the tutorials above was that they were using an older version of ANSYS, that had a checkbox by the Parameters property in the Geometry block properties. In the case of Workbench 18.2, this is a dropdown menu with options of "Independent", "All" and "None". I tried both "Independent" and "All" but with the same negative results.

This may be a very simple query, but I am super-new to this software and I might be missing something very simple. Therefore, any suggestions would be very very helpful!
Thank you!