Material Designer introduced in 19.2
SandeepMedikonda
Member
Hi:
  In lieu of many recent discussions on this topic on the forum, I wanted to point out a new tool introduced in 19.2, which is the Material Designer.
Numerical simulation of composite structures is challenging due to the differences in involved length scales. While the finite element method could be used to simulate the structural mechanics of this system (resolving all length scales), it is not practical. The number of elements required would be astronomically large, and computing the finite element solution would be infeasible, both on modern and near-future computing hardware.
The standard approach to eliminate this problem of scale in finite element analysis for composite materials is homogenization. Material properties for a composite material are averaged, rather than simulating the full complex microstructure. With homogenized material data, structures only need to be simulated at the macroscopic scale, making composite simulation significantly less computationally expensive.
An accurate approach is finite element analysis of the microscale structure of the material, which is the approach implemented in Material Designer. In Material Designer, the homogenization process starts with modeling the RVE. This requires the creation of a simplified geometry, as well as the definition of material properties of the constituent materials. Subsequently, the geometry is meshed for finite element analysis. The RVE is then exposed to several macroscopic load cases, and its response is computed. The homogenized material data is computed from the results of these responses.
Using this tool, you can calculate the effective properties of an RVE based on a lattice structure, UD Composite(UD), Random UD Composite, Chopped Fiber Composite, Woven Composite or specifyan user defined RVE as shown.
All you would have to do is setup a Material designer and link it to an Engineering Data of the analysis system to transfer the calculated homogenized properties of the RVE.
Material Designer assumes that the material under consideration has a representative microscale structure: the representative volume element (RVE). This is a small volume of the material that is still large enough to exhibit the correct macroscopic material properties. In this example, I've used the simple Octet lattice structure.
It has to be noted that the Repeat count of the RVE can be adjusted to analyze the structure of interest.
For the sake of this discussion, only 1 RVE has been chosen. Once all the settings have been set (and meshed), i.e., once the RVE has been exposed to a set of load cases and the forces results have been extracted. 
The homogenized (averaged) material properties are then calculated:
Note that many of the output material parameters and geometric parameters of the RVE can be parameterized and a design study can be carried on to fulfill the desired design objectives.
For additional details on the Material Designer, please refer to the manual specified in the first link of this post.
Additionally, checkout this video: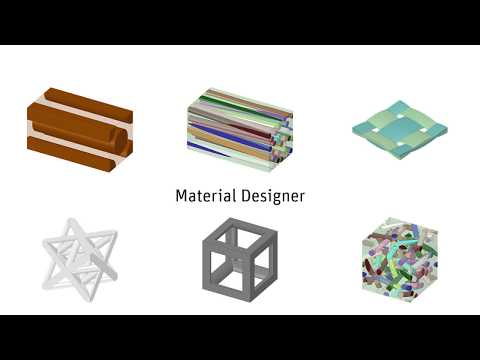 Regards,
Sandeep
Best Practices to post on the Student Community